If you love your meals crispy but you want to cut down calories and oils, an air fryer is what you need. With this kitchen accessory
at hand, you'll be able to cook your favourite dishes, including French fries, without any guilt!
...
Read more
...Read less
X
This site is a free online resource that strives to offer helpful content and comparison features to its visitors. Please be advised that the operator of this site accepts advertising compensation from certain companies that appear on the site, and such compensation impacts the location and order in which the companies (and/or their products) are presented, and in some cases may also impact the scoring that is assigned to them. The scoring that appears on this site is determined by the site operator in its sole discretion, and should NOT be relied upon for accuracy purposes. In fact, Company/product listings on this page DO NOT imply endorsement by the site operator. Except as expressly set forth in our Terms of Use, all representations and warranties regarding the information presented on this page are disclaimed. The information which appears on this site is subject to change at any time. More info
Philips Viva Collection HD9220
Delicious Fried Food to Stay Fit and Healthy
Many people believe that fried food is harmful to your health due to a high content of fat and cholesterol. However, the Phillips Air Fryer readily breaks this stereotype. All lovers of crispy delicious finger chips, roasted chicken wings, or grilled lamb ribs, it is your high time to rejoice! With this amazing Viva Collection appliance from Philips, you can enjoy your favourite fried foods without increasing your fat and calorie intake. Cooked in a new healthy way, the roasts will still have that nice golden crisp, appetising smell, and mouth-watering flavour that everyone loves about fried meals. Thanks to special cooking technology that needs only a minimum amount of oil, there will be no fat, grease, unpleasant odours, or irritating fumes when you cook. 
The unique Rapid Air™ technology efficiently distributes the hot air generated by the heating element, ensuring optimal heating profile for amazingly fast and efficient cooking. For example, 4 serves of finger chips with a total weight of up to 0.8 kg will be ready in 10-12 minutes. Fantastic performance! 
Other benefits of this model include an efficient built-in air filtration system, preventing food smells floating around your kitchen, as well as time and temperature controls, that will make your new kitchen helper extremely easy in use.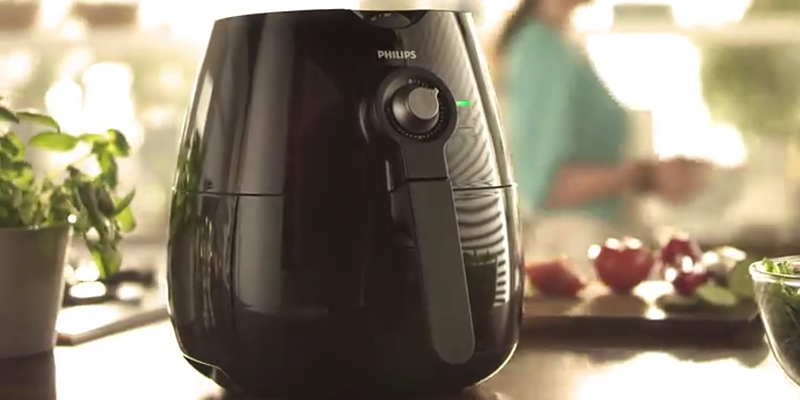 Cool On the Outside Hot on the Inside
The sleek exterior body of this appliance with a moderate black gloss finish will not only perfectly complement any kitchen interior but also delight the user with a hassle-free maintenance. To keep the nice look of the Airfryer on the outside, simply wipe it with a moist cloth when you finish cooking.
In addition, thanks to an efficient cooling system, the exterior and handle will remain cool even after hours of continuous operation. Hence, with no risk of burns, the unit will be absolutely safe to use! Even your teenage kids will be able to help you cooking or surprise you anytime with a nice delicious meal!
Find More Cooking Ideas in the App
This model comes complete with a handy recipe book for you to experience the wide range of benefits of the Philips air fryer. The book contains a plethora of delicious recipes for chicken and fish dishes, spicy hors d'oeuvres, appetisers, tasty pies, and other foods you will be able to easily cook in this fabulous appliance.

Yet, Philips offers more. You can find countless interesting ideas and get inspired to create your own culinary masterpieces by downloading a special Philips Airfryer App available for iOS and Android. The app offers not only comprehensive information on recipes but also detailed instructions and tips how to use the Airfryer. In addition, it allows sharing the photos of your appetising dishes with your friends in a single click. 
For All Keen Bakers
Good news for all experienced and novice bakers is that the Philips air fryer not only fries, roasts, and grills but also bakes a variety of pastries such as biscuits, cakes, pies, and muffins.
Muffins are one of the world's most popular dessert. These are lovely small cupcakes coming in a savoury variety of flavours. To give your muffins a uniform round shape, use special muffin pans. With the Philips Airfryer, you will be able to bake deliciously soft muffins in almost no time.
Additional Info
---
Philips Viva Collection HD9220
Havells Prolife Digi Air Fryer
A Real Find for a Big Family
When choosing a cooker that will cater to all of your kitchen needs, you usually check its power, safety features, and some usability options for quick, efficient, convenient, and safe cooking. However, if you have a big family, the unit capacity also matters. 
The biggest advantage of the Havells air fryer that makes it a real catch for families of 4 persons or more is a capacious 4-litre cooking basket that allows loading up to 1.3 kg of ingredients at a time. It's really great when you need to cook a dinner or a quick meal for the whole family or when the guests are on the way. The power of 1230 watts is more than enough to cook a big portion of your favourite snacks and delicacies quickly and with absolute ease. 
The unit design is thought out to every tiny detail for safe and hassle-free cooking. Non-slip feet ensure the stability of the device and prevent skidding while a basket handle remains cool to take out the hot basket without the risk of burns. The cooking basket is made of lightweight yet durable aluminium and features a non-stick coating for no-scorch cooking and no-fuss cleaning in a dishwasher. In addition, an innovative air filtration system will prevent food smells and odours permeating over the kitchen and house even when you fry a full load of French fries or roast several portions of meat with garlic and herbs. 
Digital Controls
Unlike most other models equipped with mechanical control knobs, dials, and push buttons, the Havells offers a digital control panel. An ergonomic LED display is illuminated with a nice blue light and features current time and temperature settings.  
In addition, this model boasts the option of setting the cooking time up to 60 minutes that is twice the time offered by most other models and is perfect for baking all types of pastries. 
Cooking Two Dishes at a Time? No problem!
The Havells comes complete with a special basket separator allowing you to cook two different dishes simultaneously. What a helpful little bonus! 
You will save a lot of time on cooking and have a chance to taste two yummy treats at a time. With Havell air fryer, you will serve a substantial hot dinner for the whole family in a breeze!
Even More Delicious Home-made Finger Chips
The simplest and tastiest dish you can cook with an air fryer is the world's most loved finger chips. Of course, you can buy a pack of pre-cut frozen potato chips in the store. However, with a Food Processor, you'll be able to cut potato chips at home in no time and cook even more delicious finger chips from fresh non-frozen potatoes without any additives or conservatives.
Additional Info
---
Havells Prolife Digi Air Fryer
American Micronic AMI-AF1-35CLDx
A Busy Cook Best Friend
In haste of everyday life, rushing between home and office, meanwhile, trying to cope with a number of domestic chores, we often lack time for cooking. It's no wonder that coming back home in the evening the last thing you want to do is stand next to the hob. If you are that kind of busy cook, you will definitely appreciate all the benefits the American Micronic air fryer offers.
Pairing the power of 1500 watts (that is a higher end range for this type of appliances) with Turbotunnel fresh air technology, this model will let you cook really fast. More than that, with the inner capacity of 3.5 L, you can cook a treat for several persons. Just imagine, you can have a wholesome family meal ready in about 30 minutes. And that's without much effort from your side. Your only task is to prepare ingredients, load them into the bowl, adjust the time and temperature settings and let the unit do the rest for you. Using hot air circulation within pretty tight close space, it will cook your foods to perfection, quickly and evenly.
Despite its name, the air fryer can do more than just frying. You can also use it for grilling, roasting, and even baking. Hence, whether you want to bake some flavourful homemade bread for breakfast, make a bowl of French fries for a movie night with friends, or roast a whole chicken with veg for dinner, the American Micronic will come to help. And you can cook your favourite dishes with minimum to no oil, making them healthier without compromising the taste.
Created for No-hassle Maintenance
When you fry in the open pan or roast in the oven, oil and fat splashes and spills are inevitable. With an air fryer, you'll avoid all that mess and the hassle of cleaning not only the cookware but also the cooking surfaces. With the air fryer, all kitchen countertops will remain clean and free from fatty stains. The unit body made of durable and heat resistant plastic is a breeze to clean by simply wiping it with a damp cloth and the cooking basket is removable and dishwasher safe. What's more, the basket is coated with a special non-stick coating, hence there will be no scorched foods and the item will last longer needing no replacement.
All in all, easy to use and maintain, the American Micronic is a good-to-go choice for busy cooks who want to spend less time in the kitchen and still have a chance to diversify their menus with tasty and healthy dishes.
Indian Staple Dish in an Air Fryer
Tandoori chicken is a staple Indian dish popular all over the world. Soaked in yoghurt and lemon juice and seasoned with garlic, herbs, and spices, it is normally grilled in the oven or on the open grill. The meat comes out deliciously soft with an appetising golden crust on the top, pleasing your tastebuds with a burst of flavours. An air fryer is also a perfect appliance for cooking traditional tandoori chicken. Just follow the recipe.
To tenderise the meat, marinate de-skinned drumsticks in the mix of yoghurt and lemon juice with a tablespoon of garlic paste, ginger paste, paprika, Garam masala, cumin, and salt and let it soak for an hour in the fridge. Then put the drumsticks into an air fryer and roast at high temperature for 10 minutes. Spray some oil over the drumsticks (or avoid using oil for low-carb dishes), flip them over and cook for another 10 minutes to get that yummy golden crust.
Additional Info
---
American Micronic AMI-AF1-35CLDx
SToK ST-AF01
Affordable Functionality
An air fryer is not a must-have kitchen appliance, yet, it's definitely a handy unit that will complement your main cooker and add versatility to your home cooking. The problem is, most premium-quality air fryers are usually quite expensive, restraining many people from making a purchase. A welcome exception to this rule is the ST-AF01 air fryer from StoK that comes at a truly affordable price yet offers decent quality and functionality. See for yourself.
Using 3D heating technology and hosting 1350 watts of power, the unit cooks fast and ensures uniform cooking results each time. Though the capacity of 2.6 L is not the highest out there, it is still enough for several servings at a time, making it a great choice for couples and small families.

Just like other air fryer models, the ST-AF01 offers variable time and temperature settings. The cooking temperature varies from 80 to 200 degrees Celsius, making the cooker suitable for frying, roasting, stewing, steaming, and baking. Meanwhile, cooking time can be set up to 30 minutes with 1-minute increments. And, in fact, you don't need more since the majority of dishes will be cooked within 15-20 minutes. Crunchy potato chips, juicy roasts, and mouth-melting pastries will be cooked in mere minutes, so you can treat your friends and loved ones to delicious yet healthy meals while putting in a minimum effort and time.

Cook With Safety and in Style
As functional as it is, the SToK air fryer comes packed in a stylish design that will fit any kitchen interior. Unlike most other models predominantly encased in dark coloured bodies, this unit features a white body with silver knobs and turquoise lining. Though white plastic is more prone to stains, it really is easy to clean with a damp cloth. So, if you are more into the light and bright colours, this model will catch your fancy.
In addition to a nice-looking design, the SToK offers the ultimate operation safety. Air-tight closed construction prevents any risk of heat exposure. Non-slip feet ensure stability on any countertop surface and a cool-touch handle allows safely taking out a hot basket when the dish is ready. Besides, a well-thought heating element is maximum safe allowing you to securely use the appliance within prolonged periods of time without any risk of overheat.
More Than a Fryer
Typically, air fryers come with a removable cooking basket but the ST-AF01 has something more to offer. The unit package also includes a grilling rack turning a fryer and roaster into a closed grill: with it you'll be able to make succulent grilled meat without the need to leave your home kitchen and without a single drop of oil. More than that, all excess fat will drain into the basket allowing you to enjoy pure meat taste without extra calories.
To round things up, if you are on a budget but still want to pack your kitchen with an air fryer, SToK will get you covered. At half the price of premium units, you'll get a functional and versatile cooker that will let you experiment with meals in the comfort of your kitchen.

---
SToK ST-AF01
Prestige PAF 6.0
A Match for Smaller Kitchens
Offering a variety of cooking options and taking the strain off out of many laborious processes, an air fryer is a tempting purchase for many home cooks. However, if you live in a small flat or have a space-limited kitchen, you'll think twice before getting another countertop appliance. If it sounds like you, the PAF 6.0 air fryer from Prestige is definitely worth your attention and can help you align your desires with your capabilities.
Even at a glance, you'll notice that this model is more compact than many other similar appliances. It has a smaller footprint and slimmer profile that will fit narrow and cramped countertops. Besides, you can easily put it on a windowsill or on a table. Thanks to a perfectly sealed design, there will be no mess or splashes around when it cooks. And the unit body doesn't heat from the outside during operation, so, it is absolutely safe wherever you place it.
Despite its smaller dimensions, though, the Prestige PAF 6.0 doesn't trail behind bigger models in terms of capacity. The appliance is complete with a rather deep and generously sized frying basket. 2 litres in volume, it allows cooking both single-serve quick meals and substantial family-sized dishes or tasty snacks for friendly get-togethers.

Precise Cooking Control
Just like any other air fryer, the Prestige uses hot air and quickly circulates it around the foods for even and quick heat transfer that ensures efficient and uniform cooking. Hosting 1200 watts of power, this model is not the most powerful appliance in the range, yet, this wattage is more than enough to cook pretty fast with relatively low energy consumption.
Suitable for frying, roasting, grilling, baking, and more, the unit will let you cook with virtually no oil and eat your favourite snacks such as French fries, chips, and onion rings without guilt. Even if you are not a healthy eater yet and are rather into succulent roasts and grilled foods, this air fryer will help you cook all those treats in a healthier way without compromising the taste you like so much.
To take the most out of the versatility the Prestige air fryer offers, it comes complete with two dial knobs for precise cooking control. One knob allows accurately setting the cooking time up to 30 minutes in 1-minute increments while the other is there to adjust the temperature from 80 to 200 degrees Celsius. Thus, even when cooking some new recipes, just follow the instructions and you can rest assured knowing that you'll achieve perfect results.
On-par Usability
Functional and versatile, the prestige PAF 6.0 was also created with usability features in mind to make the appliance use convenient and safe to the maximum. As we've already mentioned, two dial knobs provide intuitive controls and make settings adjustment a breeze, eliminating any guesswork. A removable frying basket features a cool-touch handle to easily pull it out and carry it safely when it's hot. Meanwhile, the non-stick coating prevents any sticking and oily residues build-up, not to say about a hassle-free basket cleaning. Even more than that, the basket is dishwasher safe, so, cleaning is really a cinch. The last but not the least, a well-thought smoke vent on the back of the unit will absorb unwanted food odours and smoke to keep the air in your kitchen fresh, no matter what you cook.
To sum it all up, the Prestige PAF 6.0 is a compact, high-performing, and easy-to-use air fryer that will perfectly match smaller kitchens and cater to the needs of any home cook.
Additional Info
---
Prestige PAF 6.0
What Is an Air Fryer?
If you cannot imagine your life without crispy fish and finger chips, it's time for you to give a sigh of relief and enjoy their new and healthier taste. No more harmful fat content, revolutionary air fryers are designed to fry all sorts of food without adding even a drop of oil. You can cook anything you like in the air fryer, including vegetables, chicken, cakes, or fish and finger chips. Now you can be sure that your favourite meals will not only taste as good as they used to (or better?) but will also help you keep your cholesterol level under control. Sounds wonderful, isn't it?
Air fryers confidently replace conventional ovens and become truly irreplaceable kitchen appliances for those who care about their health and diet. In our review, you'll find the best carefully selected models to choose the one that suits your needs. Compact, big, powerful and energy-saving air fryers will please your taste buds with crunchy, delicious food without adding a single inch to your hips or waist.
And if you're only building your arsenal of kitchen accessories we suggest you also take a look at our review of coffee makers. This selection has the most popular models available out there.

What Features to Compare
Capacity and Power
High-performing units can significantly save your cooking time, delivering mouth-watering crispy food literally in minutes. Yet, it is likely to consume a little more energy. Capacious and powerful models will come in handy for those customers who have large families, like to invite guests, relatives, or neighbours for a friendly dinner and treat them all with delicious fried food. And why not if the air fryer comes up with healthy meals that contain eighty per cent less fat compared to the food prepared in a frying pan on the stove?
There's always an option to go for something in-between and choose an appliance with an average capacity to hold just enough food for your family needs. This would be an ideal option for those who enjoy having fried food only on special occasions.
Settings
Different appliances feature different operation modes and therefore can be used for different purposes. Some devices may need just a bit of oil while others can cook without any oil at all.
Aside from these features, there is also a wide range of programmable settings used for cooking various meals. Some models allow users to defrost the food, considerably reducing preparation time, while others can be used to quickly warm-up already prepared meals.
Usability
Quite often air fryers can be used to prepare several meals at a time. To make that possible and your cooking easier, manufacturers provide diverse racks, trays, layers, etc. Hopefully, any lover of tasty and healthy home-cooked meals will find an ideal appliance among the models we've selected in our review and will start enjoying the cooking experience anew.
FAQ:
Q: What are the major benefits of cooking in air fryers?
A: Using hot air circulation to cook food thoroughly inside and outside, air fryers are all about healthy and fast cooking. 
When you cook in the air fryer, you can still get that appetising golden brown crisp everyone loves but with almost 80% less fat. Cooking with no to little oil, this handy appliance truly offers tremendous health benefits. Add to this saving money on oil and saving time on cooking and you'll get an unrivalled cooker. 
Another undoubted advantage of the air fryers is fast cooking. They can cook quickly and evenly sealing most nutrients inside the foods, preserving most minerals and vitamins. With air fryers, delicious healthy fried food is not a dream anymore!
Q: Does the food fried in this cooker is as crispy and tasty as the food fried in deep fryers?
A: We must admit that nothing can beat the crisp crunch and savour of fried foods from deep fryers. However, the food cooked in a great amount of oil is far from being healthy. Air-fried food tastes a bit different but still good. With all the incorporated health benefits and without a bitter taste of guilt (because of eating fatty high-calorie foods), it should taste even better. As for the nice crust, you'll have it. The food is crispy from the outside and soft from the inside without grease, fat, and bad odour. 
Q: What else besides fried food can I cook in this appliance?
A: Though everything depends on the model you choose, usually, the choice is not limited to frying. You can cook a wide variety of meals using different cooking techniques including grilling, roasting, and even baking. The possibilities are practically unlimited. 
Q: Can I use baking foil or paper when baking in the air fryer?
A: It is allowed to use aluminium foil or baking paper. The only strict requirement is to leave enough space for hot air circulation.
Q: Do I need some special oil to cook in the air fryer?
A: Normally, you can use any type of oil. However, it is recommended sticking to traditional oils like pure olive oil or vegetable oil. 
Q: How to clean air fryers?
A: To prolong the service life of your device, cleaning is required after each use. But there are two major rules you should keep in mind: 
Since these are electric appliances, hence, no immersion in water is allowed. 
It is necessary to avoid abrasive materials for cleaning.
Use the moist cloth to wipe the outside of the appliance and either a soft sponge or soft to medium bristle brush to remove the food residues from the inside. The pans, baskets, and trays are usually dishwasher-safe but you can wash them with soapy water as well. 
Q: Are air fryers safe to use?
A: Though this kitchen appliance uses hot air to cook, it is absolutely safe to use. Thanks to an efficient cooling system that is automatically activated inside the fryer, the exterior of the appliance remains cool to the touch. Besides, there are no hot oil spills when you cook preventing the risk of burns.