Consider our review of the best 5 DVD-players that are definitely worth your attention. Our in-depth analysis of their functionality
should help you find the one that will best fit your needs.
...
Read more
...Read less
X
This site is a free online resource that strives to offer helpful content and comparison features to its visitors. Please be advised that the operator of this site accepts advertising compensation from certain companies that appear on the site, and such compensation impacts the location and order in which the companies (and/or their products) are presented, and in some cases may also impact the scoring that is assigned to them. The scoring that appears on this site is determined by the site operator in its sole discretion, and should NOT be relied upon for accuracy purposes. In fact, Company/product listings on this page DO NOT imply endorsement by the site operator. Except as expressly set forth in our Terms of Use, all representations and warranties regarding the information presented on this page are disclaimed. The information which appears on this site is subject to change at any time. More info
Panasonic S700
Formats
Panasonic HDMI DVD player is rather basic when it comes to functionality and yet, it does a brilliant job. It will play literally all disc formats that are played around the world. The Up-Conversion option ensures high precision of pixels by correcting the brightness of media content and smoothening up all little irregularities of an image. It also has the capability to playback most burnt content, including MP3 and JPEG files. Most customers who have used a different model in the past are quite impressed with its performance and are happy to have bought it for such an affordable price.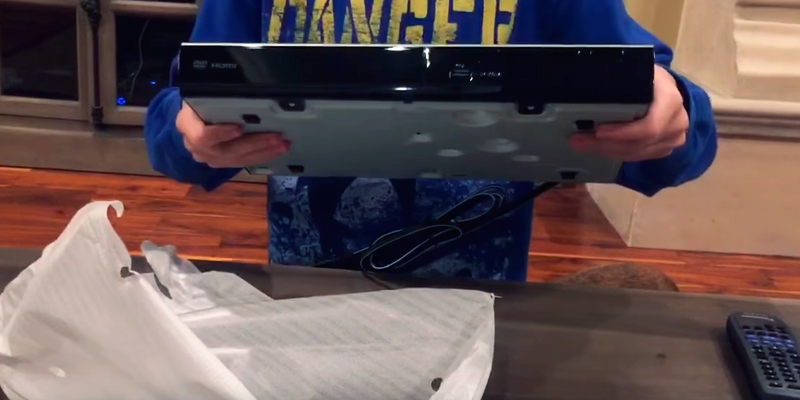 Resolution
This is a simple and cheap DVD player, however when it comes to the quality of video streaming, it firmly outperforms most of the similar players within the same price range. For whatever TV screen you've got at home, it will playback a high definition video in Full HD 1920x1080p. People love the fact that it's small size, easy-to-use and great in work. But the best part of it is its auto shut off function that will turn the unit off after some time when it's been out of use.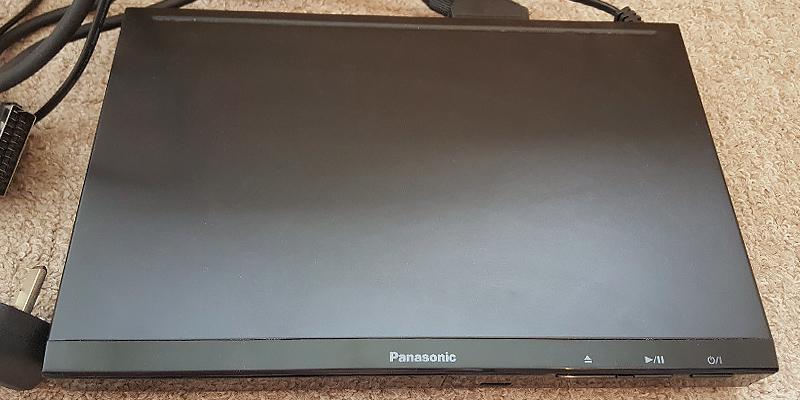 Connectivity
The DVD-S700 comes equipped with the HDMI-port that ensures high throughput, multi-channel transmission of audio and privacy. This Panasonic  DVD player paired with HDMI port hardly needs any additional jacks for the use of other cables. This makes most modern DVD players stand out from the rest analog devices - the HDMI port is equally good for high-speed cables and those that you've already got.
Additional Info
---
VIDEO
Panasonic DVD-S700P-K Player Unboxing
Panasonic S700
LG Electronics DP132
Formats
This ultra-thin DVD Player from LG Electronics is able to play back almost all currently existing formats of DVDs and CDs. Moreover, this player also copes even with dual discs (DVD+CD). Another benefit of this model is that it has a USB connection. Hence, you will have an opportunity to enjoy photos, videos, and audios of various file formats like DivX, MPEG, MP3, JPG, JPEG and WMA right from your USB memory device . So, this fantastic glossy DVD Player that supports virtually every file will surely please you!
Resolution
As for the maximum resolution, it is advisable to use this DVD player in pair with the TV sets with diagonals from 19 to 32 inches as the resolution of the player is 720 x 576p. Thus, it is perfect for watching movies in HD. Although this resolution is not the highest in our review, this inexpensive DVD player will definitely deliver a crystal-clear image with brilliant color saturation to your TV display.
Connectivity
This DVD player includes one composite video out and one analog audio L / R output. But, as we have already mentioned, the main advantage of LG Electronics DP132 is a USB output that makes it possible to play back various digital formats. In addition, this model has a useful USB Direct Recording function. To be specific, you will be able to extract audio tracks from any CD and transfer these tracks to your USB device. So, you are welcome to make your own MP3 collection.
---
LG Electronics DP132
Sony DVPSR760HP/B
Formats
Sony has been known to make great quality DVD players, and the Sony DVPSR760HP/B DVD Player is no exception. This DVD player supports a wide range of formats, including quite a few writeable CD and DVD formats, ensuring that you can watch your burned discs on this player. You can also use it to listen to MP3s should you desire to use it as a music player. Just keep in mind that with commercial DVDs, the player is region-locked, so if you have an extensive collection of DVDs from other regions, you may want to find a region-free DVD player instead.
Resolution
Since HDTVs are so prevalent nowadays, it is always a good idea to find a DVD player that supports the high-quality outputs and resolution of such television sets. Thankfully, this DVD player from Sony will fit the bill, as it will upscale standard DVDs to look great on any television that it is connected to, including on HDTVs that support up to 1080p resolution. This is perfect for those who want their DVD collection to look great on the latest TVs yet don't want to spend more money on a more expensive BluRay player.
Connectivity
Plenty of connectivity options are available for this DVD player thanks to the ports included on it. For those who want to watch videos or listen to music without wanting to burn CDs or DVDs for this purpose, the DVD player includes a USB port that will read many different audio and video file formats. For connecting to an HDTV, you have the choice of using the included HDMI cable, or you can also connect with component video. For those with older television sets, composite audio and video connectors are included, although you will need to purchase the appropriate cable separately. All told, those who want a good quality DVD player will be quite pleased with this model.
Additional Info
---
Sony DVPSR760HP/B
iBELL 3288HD
Formats
DVDs have been a worldwide phenomenon for a long time now, and as such, it is not uncommon for people to have DVDs from different regions. DVD players that are region-locked are often not ideal for such people, but you will be pleased to know that the iBELL 3288HD DVD Player with Built-in Amplifier is region free, meaning that you can watch DVDs from any region without restrictions. In addition to DVDs, you can also watch SVCDs and even view Kodak Picture CDs, along with many popular audio and video file formats. There seems to be little that you can't view or listen to with this DVD player, making it one of the most versatile models available.
Resolution
Do you happen to have older televisions that may use either PAL or NTSC standards? If so, this DVD player is compatible with both PAL and NTSC, so whichever television you have, you should be able to play your DVDs without any problems. In addition, this DVD player is able to upscale standard DVDs to a high resolution of 1920 x 1080p, so any DVD should look great on your new high-resolution HDTV. Regardless of what kind of television you have, you should find no faults with the video playback quality of your DVDs.
Connectivity
The connectivity options of this model seem to be nearly unlimited. You have a standard HDMI port for connecting to HDTVs or computer monitors, along with component video, composite, and even S-Video outputs. If you have a 5.1 speaker setup, this DVD player includes the ports for it, and it even includes a built-in amplifier, so you don't need to run it through an expensive stereo system in order to enjoy high-quality surround sound audio. If you like singing karaoke, this DVD player even includes microphone inputs so you and your friends and family can practice your karaoke together, making this the ultimate party DVD player for you and your family.
Additional Info
---
iBELL 3288HD
Impex PRIME DX1
Formats
If you are searching for a budget DVD player that won't make a hole in your purse but at the same time will let you watch your favourite content and listen to music, the Impex Prime DX1 has almost everything to meet your needs.
This DVD player with amplifier supports MP3, AVI, JPEG, and DivX formats. These formats are the most popular ones, so you can download and record almost any media from the Internet and playback it on your Impex player. This is especially convenient thanks to the built-in USB jack - you don't need to search for a clear CD/DVD once you've found out that a movie you have been waiting for is available on the Internet. You can download and write a video or audio to a flash drive within a few minutes, and enjoy watching it with your family. Sounds great, isn't it?
Resolution
In addition to a quite simple operation and great picture quality, this model allows you to listen to any audio file with excellent surround sound. You can connect this device to your 5.1 stereo system and hear every step and whisper in a film. Also, we would like to note that this DVD player is equipped with an amplifier. So, the audio will always be more powerful for immersive results.
Overall, this is a pretty good 5.1 DVD player for its price. It is convenient in use and allows you to watch almost any media with good picture quality and surround sound. That is to say, the Impex Prime DX1 is a great value for the money.
Connectivity
This player features an AV input/output, which means you can watch photos and videos from your journey or any other special occasion right from your video or photo camera. The design of this model is well-thought-out. It has all the necessary controls on its front panel. At the same time, engineers have managed to avoid its overloading, thus making the operation of this device intuitive and hassle-free. Plus, if you prefer to control gadgets from your sofa, for instance, this 5.1 DVD player comes with a handy remote. All told, any avid DVD watcher will be sure to love this model.
Additional Info
---
Impex PRIME DX1
What Is a DVD Player?
A DVD player is a popular multimedia gadget that transmits video clips and movies on a TV screen through a cable connection. Most modern DVD/BD players are capable of playing not only old disk formats but also some newfangled multimedia files that would surely come to liking to true movie fans. Such players are universal and multifunctional, and they greatly surpass their obsolete analogues. Those users who'd also like to access the Internet through their digital player should consider an idea of buying a smart console. With this little accessory, any typical TV will turn into a proper multifunctional station in a flash. Hopefully, our review of the best 5 players should help you find the right device for your needs.
If you can't imagine long trips without being able to watch your favourite series or TV shows, a car DVD player will come right up your alley. With one of those, travelling by car will be much more enjoyable, if not for you then for your passengers.

What Features to Compare
Modern DVD-players support all types of media storage drives and Formats. Not only can they play standard CD and DVD-disks, they can also play back images and MP3 files. BD-players, for example, support all the same functionality, and a Blu-Ray feature. If you plan to watch movies on a bigger screen with a large diagonal and you don't want to sacrifice the quality of the image, it's definitely the choice for you. However, those customers who have used to watching films on a small TV with standard resolution may easily opt for a regular DVD-player.
The foremost thing to consider when choosing a DVD-player is its Resolution parameter. It directly affects the quality of an image. To decode a signal on a larger diagonal, a DVD player would need to have more CPU, this is where you can clearly see the difference between images that playback on small and big screens. The standard 1920x1080 resolution is the optimal choice for owners of large-screen TVs. For smaller TVs 720x480 should be a sufficient parameter.
We'd also like to draw your attention to Connectivity options. Different DVD/BD-players have got a different number of video- and audio slots that more or less influence the quality of both, video playback and sound. For example, if you want to have high-quality 1920x1080 resolution and a multi-channel sound, you should consider buying a DVD-player equipped with HDMI jack. It will ensure that your sound and video are transmitted in a digital format. TV with smaller resolution would work well with SCART and Component. They are both designed to transmit a signal in an analogue format. A great lot of DVD-players are also equipped with additional jacks for karaoke, one or two microphones and a USB media storage for viewing images and playing MP3s. Almost every BD-player has got a built-in Ethernet for easy access to the Internet (the required feature for downloading additional resources together with films). Another advantage of having Ethernet on a player is an option to quickly update your DVD player software online and watch new disk formats along with the old ones.